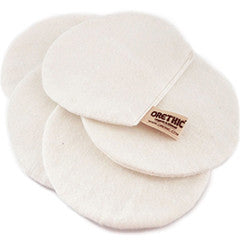 An Orethic favorite. Lovingly hand-made with certified organic and fair trade cotton flannel. Great for sensitive and delicate skin and for gentle skin treatments, light make up removal and everyday complexion cleansing.
Pack of 5 to keep in your wash bag and re-use them for years! Part of our Orethic zero-waste traveller collection.
These naturally absorbent pads are a great washable alternative to disposable products. A must for people with allergies and chemical sensitivities and for delicate skins.
Aprox. Dimensions: 3,5¨/9cm 
Shipping outside USA: United Kingdom $4 rest of Europe $7
Product made with left over fabric after cutting our organic cotton globes, so no waste whatsoever in the making either!