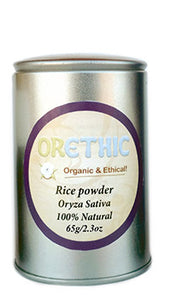 Cleans, dries and purifies the skin without causing allergies or irritations. This is a 100% natural product so is especially good for keeping your baby's sensitive skin dry and protected after bath time. For all ages and skin types, apply after bath or shower for smooth and dry skin.
It absorbs oils to achieve a balanced complexion, makes a perfect foundation for make up and protects skin after body hair removal. A versatile powder that can also be used by all the family as a sunscreen, foundation, or after sun to combat the effects of peeling.
Add water to make a paste for a face mask, or use it as a deodorant in shoes or skin by adding a few drops of essential oils of your choice. 
*Oryza Sativa Powder (rice)
*Organically certified