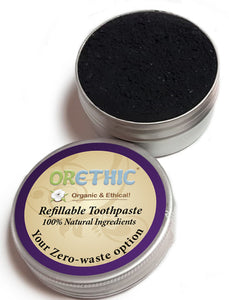 In our range of Toothpaste-in-a-tin is this 100% natural, vegan, and fluoride-free option in powder form. 
The metallic box is practical to keep in your bathroom (60gr/2oz) and our travel size (15gr/0.5oz) is perfect when we are out and about. Both formats help us reducing our share of plastic toothpaste tubes!. A little of this product goes a long way so simply apply a thin film layer on your brush and enjoy!
Benefits:
Convenient
Zero-waste
Economical (our 60gr/2oz equals approx. 3-4 conventional tubes)
Hygienic
Environmentally friendly
Add more ingredients of your choice!
Ingredients: 
Basics: Aqua, Glycerin, Xylitol, Limonene
Calcium Carbonate, Carbon Black
Oils: Mentha Spicata Herb, Citrus Aurantifolia & Cocos Nucifera Seed Oil
Foaming agent: Sodium Cocoyl Isethionate, Sodium Isethionate
Made in Spain