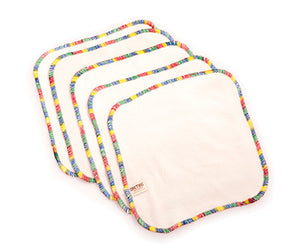 Super practical set of 5 organic bamboo wipes 8″x8″/20x20cm. to carry in the baby bag as an alternative to disposable products. Made with really soft fabric, they are perfect for the delicate skin of our children. These wipes are double-layered making them not only very absorbent but also very convenient and popular with adults while exercising or at yoga practice due its handy size. 
Our fabrics have been tested and have the MADE FOR HEALTH certification, which makes them ideal for people with chemical sensitivities to textiles.
Toss them in a laundry bag for washing and machine drying at medium temperature, or simply hand wash them and hang them by the sun light to save energy!
Shipping outside USA: United Kingdom $4 rest of Europe $7