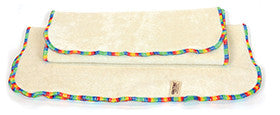 Pack of two 15″x 13″/40cm x 33cm Orethic organic cotton pre-folds. Very soft for baby skin and super absorbent. Extremely versatile and cost effective as they can be folded in different ways to fit all sizes of diaper, making them reusable as the baby grows and ideal for families with infants of different ages . 
Easy care: Just wash in the washing machine and air dry or machine dry and reuse!   
Our fabrics have been tested and have the MADE FOR HEALTH certification, which makes them ideal for people with sensitivities to the chemicals in some commercial textiles.
Shipping outside USA: United Kingdom $4 rest of Europe $7